Reykjadalur
Shall we go there?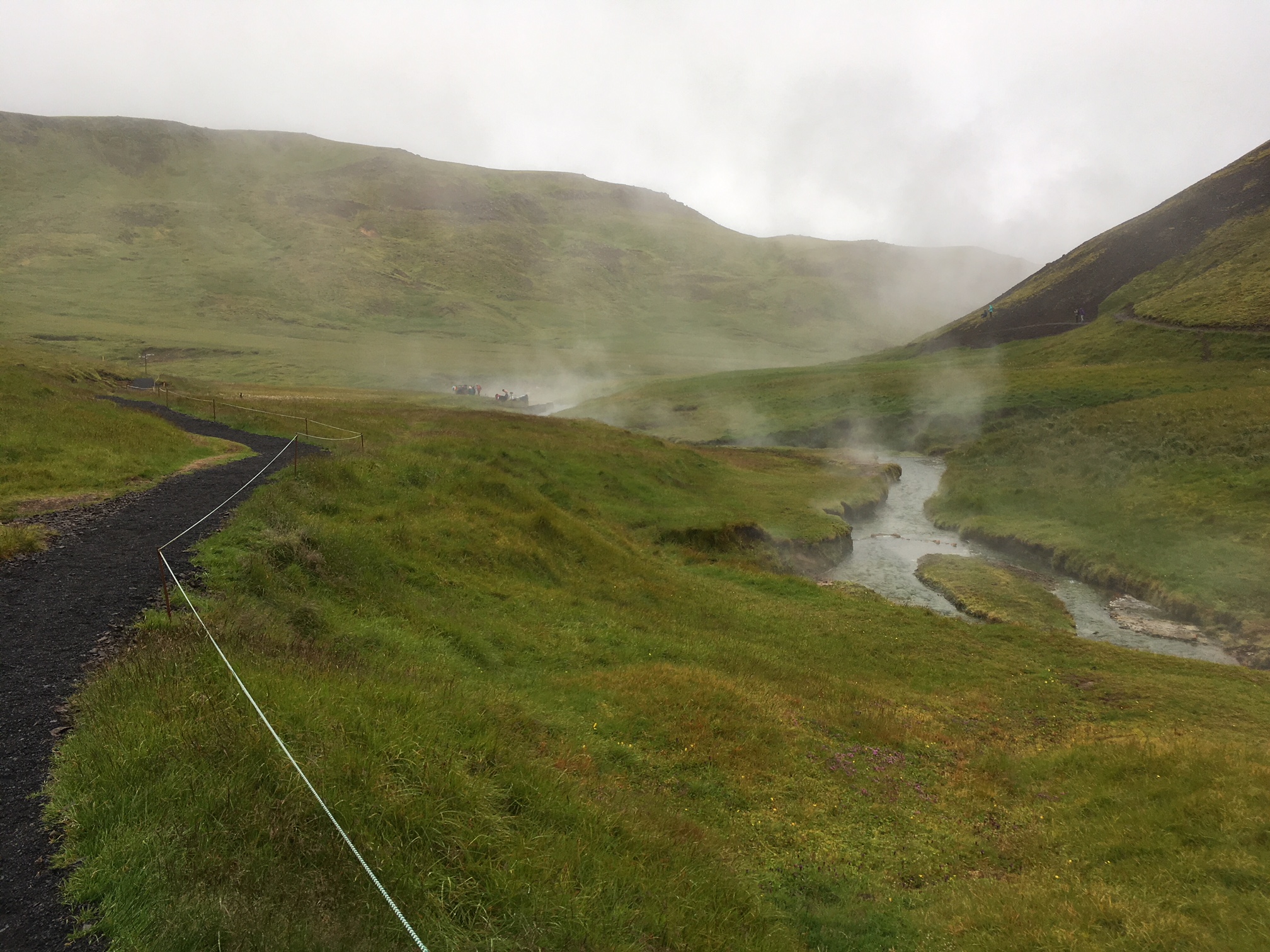 The name itself, Reykjadalur, aptly describes the place: Smokey Valley. This is a lovely hike, a bit rough at times, rocky and gravelly, and just challenging enough to be interesting for most eager travellers. 
A natural warm pool in the river!
The prize is over there at the end of the rainbow, yes, there is a natural warm pool in the river, and it has been arranged so that the weary walker can relax in the smoky water and enjoy the scenery. A few planks thrown across the river here and there, nothing that could spoil the pristine nature of the site. A dip in the warm river is well worth the climbing of those steep slopes! Be sure to wear sturdy shoes and keep them tightly laced. Put a towel in your backpack, along with a swimsuit and a snack, and you're all set to go. Note that it is quite a rainy area, so be prepared for a shower or two on the way.
Keep Klambragil in mind!
When you start the hike, you are standing at about 80 m above sea level, and once you are as high as this description will lead you, you will be standing at about 350 m above sea level. The elevation is considerable. Timewise, this hike will last close to two hours both ways, as there are 3.5 km going there and 3.5 km getting back. Allow for an extra half hour or so if you want to take a bath (highly recommended) and if you want to continue the hike to Klambragil, a beautiful nearby canyon with lots of spectacular, many-hued hot springs, that will take an extra half hour, but it is worth the effort!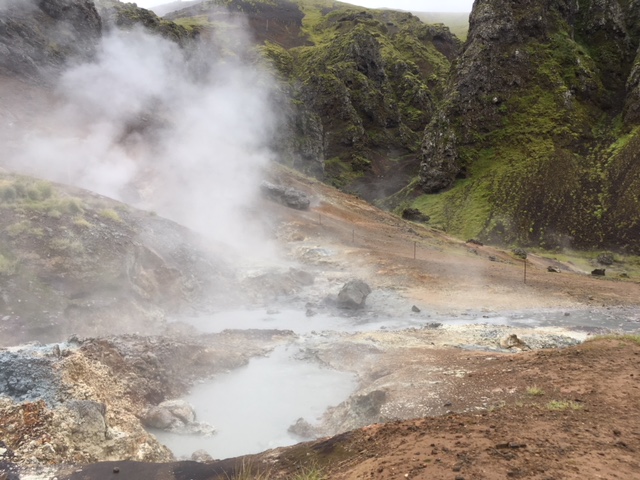 To get to Reykjadalur
To get to Reykjadalur, you can either follow the path and walk from Hveragerði, or else park your car in the parking lot by the river and start your hike by the sign: Reykjadalur 3 km. Either way, the view is stunning:  mountain flanks in shades of black, brown and green, steaming here and there, and the river meandering and cascading through barren highlands. The odd sheep grazes peacefully in the heath. To begin with, the trail is quite smooth, albeit a bit steep, and allows for horses. At one point, though, it narrows down and the hot springs become more prominent. The view over Hveragerði and the countryside is stunning, and you might catch a glimpse at the sea in the blue yonder, on a clear day.
Be careful!
The signs say that the water is a 100 degrees Celsius, actually it is hotter than that, and the clay is bubbling and boiling as well. At times, the smell of sulphur is quite overwhelming. Mind your step, and if the ground looks bluish, a hot spring just might be ready to pop up. No need to worry, though, as the most dangerous spots have been fenced off.